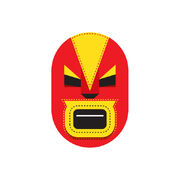 The Luchadores were a gang of mexican and american masked wrestlers who were steroid-junkies and fans of big, loud guns and explosions. They had a strict code of honor, most of it revolving around the masks that gang members wore. They were led by the late Eddie "Killbane" Pryor, a legendary heavyweight wrestler who was also dubbed "The Walking Apocalypse" who ran almost half of all the Casinos in the United States. Luchadores were masters of hand to hand combat, and they were also notably proficient with guns. They were one of the most powerful gangs in America, and the whole world as well. 
The Luchadore gang came to an end around 2171, when Gorilla Grodd attacked Three Count Casino (their capital), and slew all humans inside, and killing their leader, Killbane.
Society and Culture
Edit
Notable Luchadores:
Eddie "Killbane" Pryor: the legendary heavyweight wrestling champion of countless tourneys, dubbed "The Walking Apocalypse", and undisputed head of the Luchadores.
King: a very strong and well-built mexican wrestler. He wears a jaguar head-mask, and he is rather tall, over 6 feet in height. King is an excellent fighter, and he has put down many enemies, wether they be wrestlers or rival gangsters.
Ad blocker interference detected!
Wikia is a free-to-use site that makes money from advertising. We have a modified experience for viewers using ad blockers

Wikia is not accessible if you've made further modifications. Remove the custom ad blocker rule(s) and the page will load as expected.