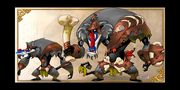 Apes are a race of upright primates who have a primitive society located on the island of Harmugstahl in Vilous. They are about human sized, though they are hunched over. The apes are very primitive, and they have not advanced technologically over the course of millenia. They come in three breeds; common, chief, and badass apes. Common are standard, human sized apes. Chiefs are larger and stronger than their common brethren. Badass apes are even bigger, stronger, and generally smarter.
During the 200s, C.E., the evil dragon renegade Malefor hired the apes to be his personal army. He used them to cause the extinction of the dragon race in Atmah, and the demise of the Dragon Empire. The apes, needless to say, are warlike, generally dim, and violent. The apes have not been able to progress past their stone age due to frequent and bloody civil wars that unintentionally keep the ape population and civilized advancement in check. Unlike the orks, who are capable of some unity and teamwork, the apes are completely incapable of perceiving unity or a sense of community, unless they are headed by someone extremely powerful and convincing, like Malefor.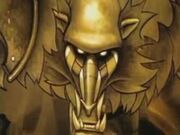 Apes, as stated before, are not capable of banding together into large forces without very strong, strict leadership. Apes do, however, band into small tribes, made up of no more than 50 apes per tribe. The beasts vary in appearance depending on their habitat, the temperature, their belief system, and the resources available to them. For example, the above apes are Jungle Apes, inhabiting the jungles of Harmugstahl.
Different divisions of apes are listed here: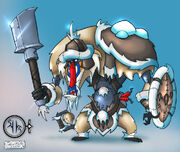 Snow Apes are a group of hunting apes that are found in the icy, snowy northen regions of Harmugstahl. They hide well in the snow and build igloos.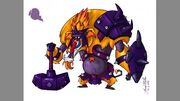 Highlands Apes 
are a group of nomadic apes that are skilled with masonry and build temples in the higher elevated regions of the island.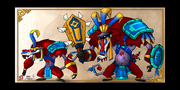 Grasslands Apes are a group of warrior apes who make their homes in teepee-like structures on the savannahs of the island. They excel in close-quarters combat.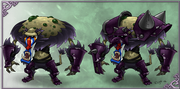 Mountain Apes are a group of apes that live in the crag-like mountains of Harmugstahl. These apes are violent and reclusive, and they often live in caves.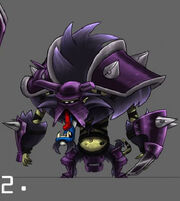 Swamp Apes are a group of stealth apes that inhabit the dank, muddy banks of Harmugstahl's wetland regions. They are silent, sneaky, and skilled at hunting.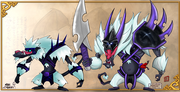 Ashland Apes 
are a culture of apes that inhabit the volcanic wasteland environment on Harmugstahl. They are violent, aggressive, and territorial. 
Ad blocker interference detected!
Wikia is a free-to-use site that makes money from advertising. We have a modified experience for viewers using ad blockers

Wikia is not accessible if you've made further modifications. Remove the custom ad blocker rule(s) and the page will load as expected.